VAPOR CABINETS
KEMSTREAM has developed high-performance vapor delivery system Vapcab. It is a fully automated, stand-alone vapor generator and vapor flow control system. It is a very flexible tool which is configurable. It is able of vaporizing a very wide range of chemicals and precursors, pure liquids or solid ones dissolved in an organic solvent, from small to high flows. Vapcab can thus address a very wide range of processes and applications.
Vapcab is fully automated and equipped with a PLC (programmable Logic Controller). Its PLC provides control of temperature/flows (liquid and carrier gas), valves position and alarm functions.
If its PLC is programmed from a PC, Cabsoft control software is provided. The PLC can also be connected to a host computer or to another PLC (master PLC). Vapor cabinet Vapcab can be interfaced on any CVD machine, close to the machine or remote. Cabsoft features a "recipe mode" that allows creating recipe with up to 1000 steps. For maintenance purposes, Cabsoft also has a "manual mode".
Vapcab features some temperature control loops available for controlling the temperature of the vapor line that carrier the vapor from Vapcab to the CVD machine.
The architecture of the liquid panel of the Vapcab allows use and safe handling of air sensitive and pyrophoric chemicals and precursors. In case of solid chemicals and precursors or low volatility liquids, the liquid panel features a solvent tank for rinsing the injection line(s). The liquid and gas panels of the Vapcab are made with high quality components compatible with Ultra High Purity (UHP) liquid handling.
Vapcab is the only turnkey system on the market featuring high-performing direct liquid injection vaporizers. It is the perfect solution when integrated vapor flow control system is required. Thanks to its high-performance DLI vaporizer(s), Vapcab can deliver precise, reliable and stable vapor flow. It is particularly adapted to low vapor pressure liquid and solid chemicals and thermally sensitive ones.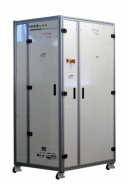 Stand-alone vapor generator and vapor flow control system.